There is one thing about bow hunting that applies for both beginners and experienced pros, and that is the need for a quality range finder. Because arrows fly at an arc compared to a rifle bullet's relatively flat flight path, bow hunters especially need to be sure of the range they are shooting at to avoid missing or worse, non-fatally wounding a deer. Continue reading this article for a review of the best bow hunting range finders on the market today.
Bow Hunting Range Finder Considerations
It can be hard to determine what range finder would best suit your personal wants and needs, as there are many features and considerations to keep in mind. One of the most obvious and important factors for most hunters is the price point at which they can buy the range finder.
The price that you spend will determine how great the quality is of the machine as a whole. It is important to figure out what features you want and don't want before determining how much you are willing to spend.
One of the biggest considerations is a fast bow hunting range finder. Buying an ultra-fast range finder is going to cost much more than one that takes a while to calculate the range. Most bow hunters do want a fast range finder, as this can be a problem if you have an incoming deer approaching quickly.
One of the most important big considerations is the range at which the machine can operate. A range finder that can calculate farther distances will cost much more. Another large consideration is the size of the machine. If you spend more money, you can get a highly compact, accurate, and fast machine. Less money might end up being a range finder with larger dimensions, which, for those hunters who try to save space and weight, is a disadvantage.
A final note on price is that price will affect the durability and warranty of a range finder as well, and it comes down to how durable and protected you want your gear to be. With that underway, let's get into the reviews.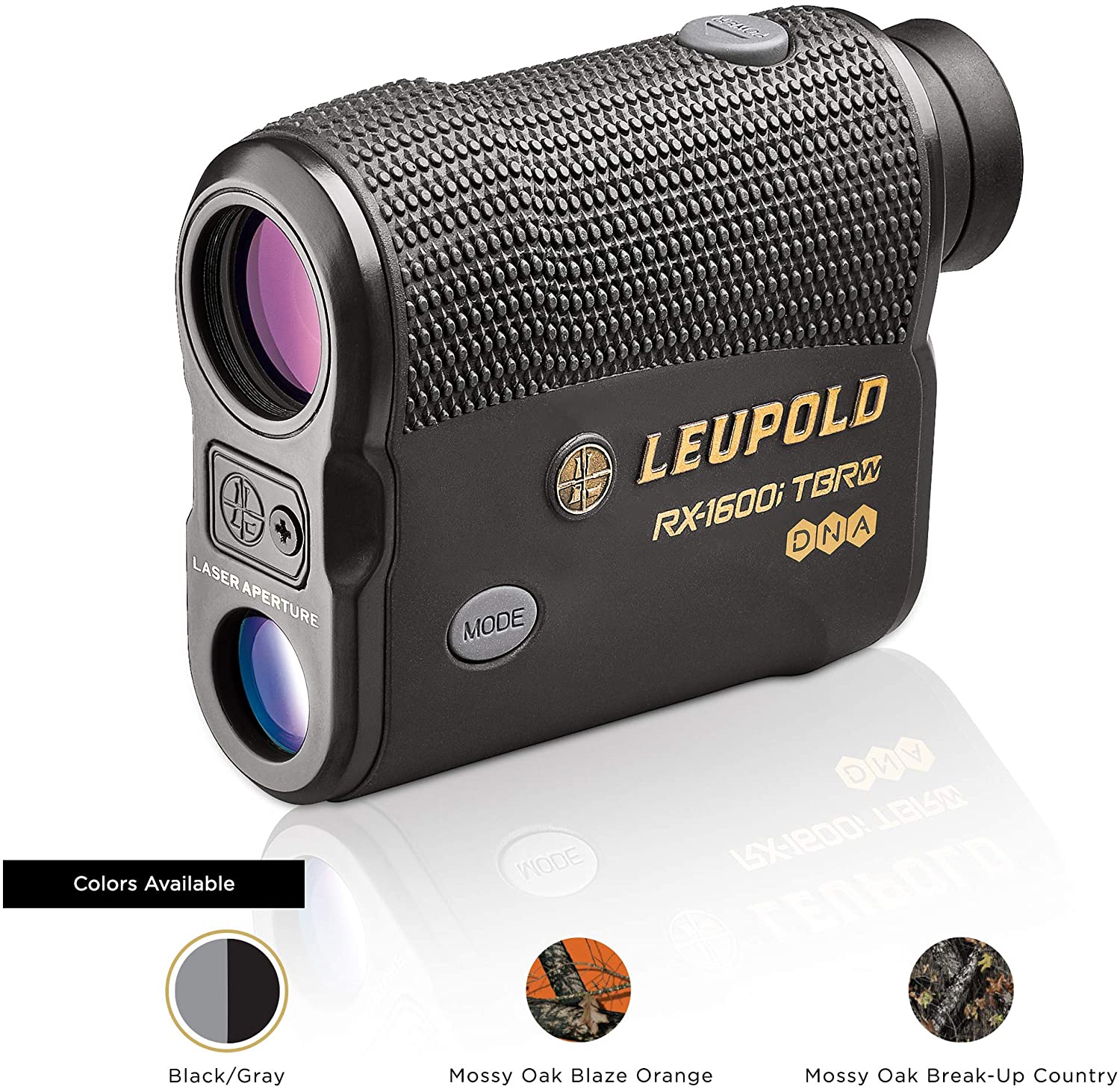 Leupold makes great optics, be it rifle scope or range finder. The RX-1600i is one of their most innovative range finders yet, combining excellent value and accuracy. Leupold's True Ballistic Range (TBR) technology factors the angle of depression or incline into your shot, which gives you the most accurate type of reading possible.
The RX-1600i comes outfitted with a protective rubber coating, providing both protection and excellent grip. This beast comes with 6x magnification and has a maximum range of 1,600 yards, making it perfect if you like to use a rifle as well.
The Leupold RX-1600i even provides wind calculations of out to 800 yards! You can hunt in any weather conditions imaginable with this range finder and not have to worry about it being ruined. This machine performs so well, and as such, can be found for around $300 -$400.
Anyone who has been in the hunting world for a while has heard of Bushnell optics. Bushnell produces great optics at very reasonable prices, and as such, has a wide following of loyal fans.
Bushnell's Bone Collector range finder is an excellent value for the bow hunter looking for a great range finder at a great price. The Bone Collector is capable of ranging deer-sized targets up to 200 yards away, making it far more than suitable for bow hunters.
The operation on this machine is so simple, making it enjoyable to use. One button does everything for you, making it easy-to-use when you are in a rushed situation. Bushnell's EXO Barrier keeps clear lenses by eliminating fog, water, and debris to impede your view of the lens. A Bushnell Bone Collector range finder can be had for around $150-$200, making it an excellent entry-level range finder.
Halo has been in the optics game for some time now and has amassed a loyal fan base. For any budget-hunters looking for the lowest price that delivers like an expensive range finder, the Halo XL450 is for you. With a maximum range of 450 yards, this is quite the machine for both rifle and bow hunters alike.
Using Halo's Angle Intelligence technology, the XL450 gives you the most accurate reading possible. 6x magnification is great for range finders, and this is what the Halo XL450 comes with. This range finder is built to be water-resistant, allowing you to hunt in any weather, rain or shine. The savvy shopper can find this range finder for right around $75, making it an excellent value for anyone looking for a bow hunting range finder.
Whether you've heard of their cameras, spotting scopes, or their range finders, Nikon is a well-known and respected optics manufacturer. The Nikon Prostaff 1000 provides a great value while offering many features.
The Prostaff 1000 is capable of ranging out to 1,000 yards, giving hunters adaptability for whatever they are doing. This great range finder comes with 6x magnification, allowing you to see what you are ranging. Tru-Target technology lets you decide between two different range finding modes, first priority, and distant target priority.
The first target priority is used for single, small objects, while the distant target is used to get the furthest range from a group of objects being measured. The Prostaff 1000 comes with Nikon's 5-year warranty and a weather-resistant coating, making it a highly-durable and protected range finder. You can find this range finder for $170 at most places, giving you the perfect compromise between quality and value.
Bow Hunting Range Finders Conclusion
Finding the best bow hunting range finders can be tricky, but as long as you keep the considerations discussed in your mind, you will be able to determine the right one for you. It is important that you determine what you are looking for in a rangefinder before deciding to buy one, as some of these products suit certain types of people better than others. Once you have determined the best rangefinder for you, enjoy it and use it to help you become a more effective hunter!