Drop leg holsters have been around for over one hundred years, in one form or another. They were originally created to make accessing your weapon easier while riding a horse.  While the purpose of a drop leg holster has evolved over time, it generally has the same design today as it did then.
The drop leg holster is designed to attach to your upper thigh to hold your weapon. It is meant for open carry and keeps your gun in a convenient location to allow you to draw quickly.
Drop leg holsters are often considered a form of the tactical holster for many reasons. The first reason is that it offers easy access to your weapon. Your gun is carried in plain sight, on the dominant side of your body, so there is nothing getting in the way of you drawing your weapon. Secondly, drop leg holsters are considered tactical holsters because they offer different levels of retention. 
For a traditional, open carry, drop leg holster, it is suggested to have at least two levels of retention to keep your weapon in place and safe from potential gun grabs. Lastly, tactical holsters should offer strong attachment systems.  This means reinforced belts and straps made of sturdy materials.
Why Use A Drop Leg Holster?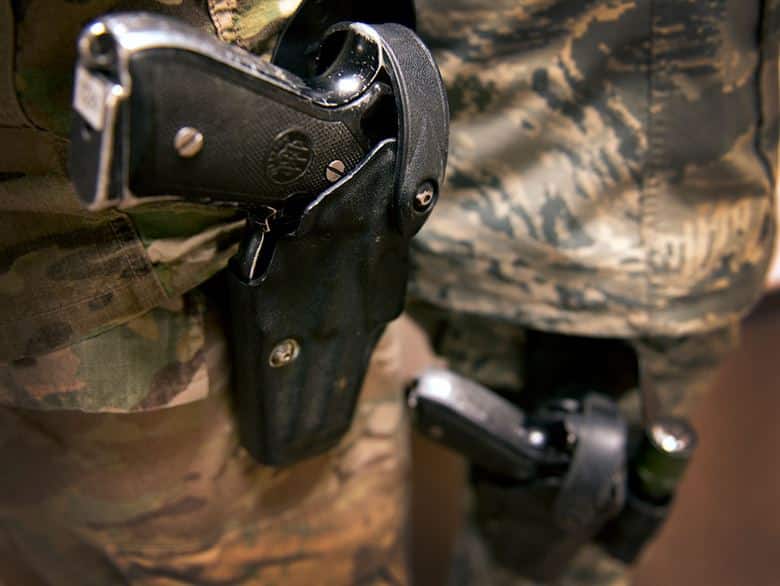 A drop leg holster is practical for a myriad of reasons. It is a great option for anyone who does not need to conceal carry, as it allows for uninhibited access to your weapon.
This type of holster allows for your belt to remain empty as well, so there is nothing to weigh down your belt or get in your way. Belt holsters are more likely to snag on your surroundings and trip you up.
How to Choose A Drop Leg Holster
There are many things to consider when choosing a drop leg holster. First, your holster should be made of sturdy and durable material. Look for materials like nylon that are sturdy, yet light to wear for an entire day.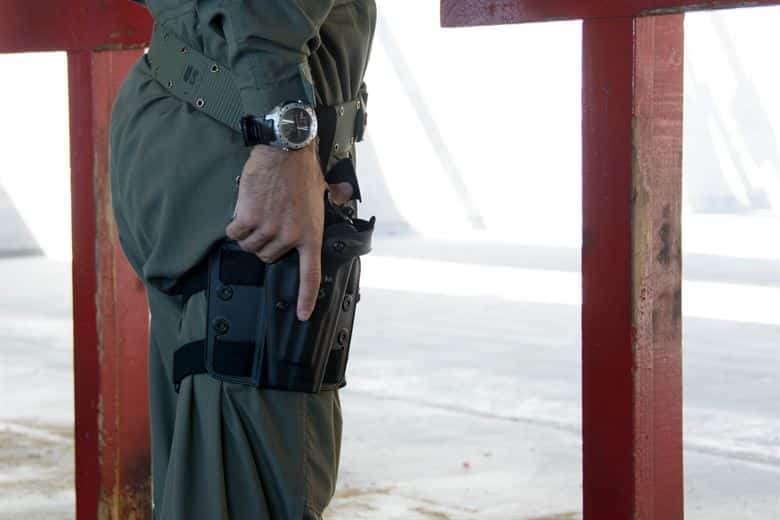 Second, you need to decide what type of retention system you want for your holster. The first system is basically made of nylon straps that secure the weapon to your leg. This provides a generally universal fit but is not the most comfortable option.
The second option is more of a docking system for your weapon. With this system, the weapon is more comfortable on your leg and is released by a small lever or button. Another thing you should consider is whether you want a universal fit holster or one that is made specifically to fit your weapon.
Understandably, tailor-made holsters are more expensive than those with a universal fit. If you only plan to use your drop leg holster one or two times a year, then a universal fit holster would be a good fit that would save you money.
If you plan to use your holster frequently, then you want one that is made for your weapon specifically, even if it will cost a little bit more. Lastly, you want to make sure you are looking for holsters that have many adjustment options.
There is not one universal fit for a drop leg holster as everyone has different shape and size thighs. You want to look for a holster that has multiple areas of adjustment so that you can find the best fit possible. Without this, the holster will seem bulky and uncomfortable on your leg, making it difficult to wear for a long period of time.
Kydex Drop Leg Holsters
Kydex is a type of thermoplastic material that is strong, yet light, waterproof, and scratch-resistant. Holsters made of Kydex will last for years and show very little wear and tear, even with frequent use. The design of a Kydex holster is a little different than those mentioned above.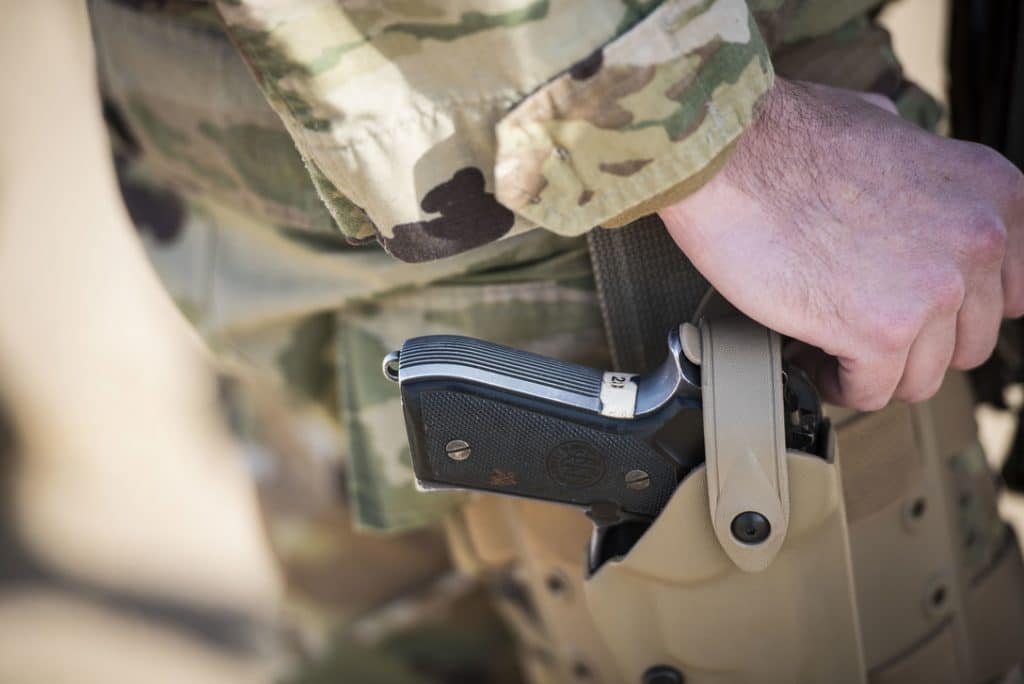 While this type of drop leg holster carries your weapon in the same place, on the outside of your thigh, it looks more like a traditional holster. One strap goes around your thigh and tightens to fit snugly.
Meanwhile, the Kydex holster fits on the outside of your leg. Your weapon goes in and out of this holster vertically like a traditional belt holster.  With this type of design, there is no button or strap that needs to be moved in order to access your weapon.
Simply grab the handle of your gun firmly and raise it into position. Another perk is that this type of holster typically is a little more tailor-made for your specific weapon. In addition to all these great features, a Kydex holster is also an affordable option. Below are a few Kydex drop leg holsters to consider.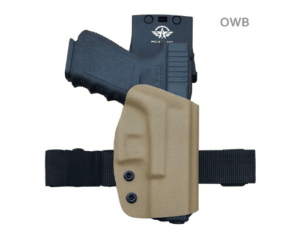 This is a traditional Kydex holster design with a widened entrance and multiple options for gun compatibility.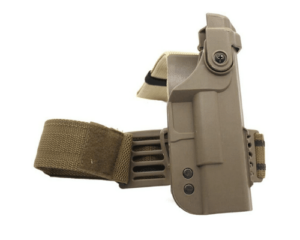 This holster is designed for certain Glock models specifically. It has the option to attach as a drop leg holster or to your belt, and is highly adjustable.