One of the main challenges with finding a good rifle scope on the market is finding a quality scope at a good value.
Wide Array of Scope Choices
You see, there are numerous budget priced scopes from major manufacturers such as Vortex and Leupold available, but most of these scopes will also still cost you around $150 to $200 or so (whereas higher end scopes can cost you anywhere from $400 to $1,000).
So what if you need a well-made scope to use for hunting and target shooting…but don't want to spend the $200 or so you normally would for such a budget model from a well-known manufacturer?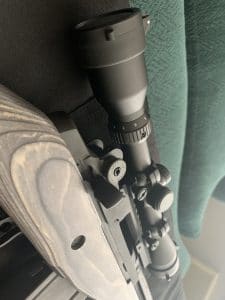 What if you literally only want to spend $100 or less on such a scope.
Well, one such option is the Pinty 3-9x40mm scope, which is the scope that I received for review last week. The scope normally sells for around the $60 range, which is considerably cheaper than most other budget scopes on the market. But how well would the Pinty hold up? I decided to find out.
I attached the Pinty to my Springfield M1A in .308 Winchester for the review. Using a surplus M1A scope mount with Vortex 1″ scope rings.
The scope fit snug onto the mount and also worked well the scope rings from Vortex.
As a 3-9x40mm scope, the scope has magnifications from 3x to 9x. The field of five is 14 to 25 feet at 100 yards, with a windage and elevation click value of 1/4 MOA at 100 yards as well. Eye relief is from 2.7 to 3.3 inches.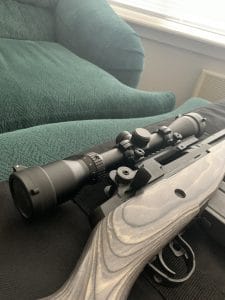 I would also note that while most Pinty scope products seem to come with scope rings in the box (based on research I had done), mine did not – hence I needed to use the Vortex scope rings I had on hand rather than any rings that the Pity could have come with.
On the other hand, this is a $60 scope, and it comes with O-ring sealing and is filled with nitrogen in order to ensure that the scope remains both fog proof and water proof. The scope also ships with lens caps as an added feature. Which further helps to protect the glass from the outside elements.
Right out of the white box the scope shipped in, I was impressed with the number of features that the Pinty 3-9x40mm Scope came with for the price. I also thought that the glass used in the lenses were very clear. This came as a surprise to me. For a scope at this low of a cost, I would have expected the overall product to have lesser features. And not so clear of glass (based on my past experience with scopes of this price range).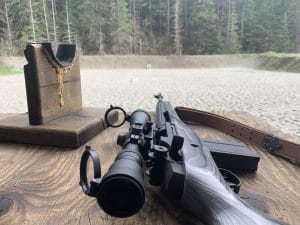 The Pinty also performed well on the range, which is where the real test comes in. I fired around thirty rounds downrange at 100 yards. Making windage and elevation adjustments was easy, with a 1/4 MOA adjustment for each click. It took only a few shots before I was able to place the shots at the center of the paper.
What's more, is that the glass remained clear throughout the shooting as well.
I'll admit I had anticipated there to be blurring or distortions in the glass after prolonged shooting due to the lower cost of the scope, but this was not an issue.
Granted, I've only had this scope for a week so far. Only time will tell as to the overall longevity and durability of the scope. If I do run into any more issues, I'll be sure to create a new post detailing those issues. Or if I only have more good things to say, I'll be sure to say so as well.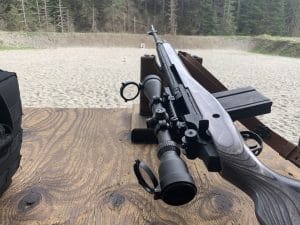 But for now, the Pinty works well. I was able to put shots on target, the glass remained clear, and I didn't run into any real issues.
It did become a little bit loose in the mount, this this was the mount's fault. More accurately, it was my fault. One of the mount screws came a little bit loose and I had to tighten it back up.
In conclusion, I'd definitely take a scope from Leupold, Bushnell, or Vortex over the Pinty. But at the same time, you're not going to find a scope from any of those manufacturers for the price of the Pinty either.
And if you really do want to spend a bit less than $100 for a scope, so far, I think the Pinty 3-9x40mm is a decent option. Check out the whole family of Pinty optics if you need good value quality optics.